In recent times, where the entire world is witnessing the haunting effects of Corona Virus outburst, the economies have taken a few preventive measures in order to keep the citizens safe in their homes. Many countries have implemented lockdown to flatten the graph of this deadly pandemic. It eventually proved difficult for all the people, regardless of age and gender, to get out of the house for even the pettiest of jobs.
Even before the Corona times, the buying pattern of individuals has drastically shifted from the physical marketplace to the digital or online marketplace. The outbreak of
COVID-19, only felicitated the online marketplaces to make it big and have played an important role in being the saviour of the economies.
Online shopping has made everything so easy and flexible. You don't have to get involved with the hustle of getting your daily requirements anymore. All you need is a smartphone or a laptop and an internet connection to order your daily needs from the virtual marketplace.
Buying medicine products online is no different from buying any other things online. In fact, it is considered as the most important and amazing technological advancement of modern times. Like it's correctly said that every coin has two sides, a good one and a bad one too. So does the concept of online shopping. It undoubtedly has bought a transformation in the buying behaviour and psychology of the buyer but it also has a downside. It becomes more important for an individual to consider a few major yet important points before buying medical products online.
Here is a list of things that needs to be kept in mind
before buying medical products online
-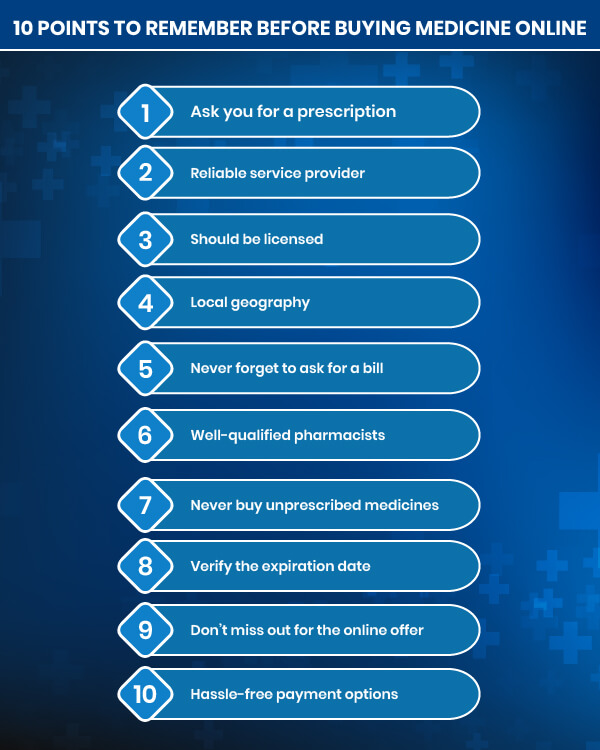 Buying medical products online from a pharmacy that asks you for a prescription - It is always a wise decision of buying medicines from an online store that asks you for a prescription. Because the pharmacies that require you to have a signed prescription from a doctor, are more likely to sell genuine and quality medicines. This could actually keep you away from the benefit of the doubt of getting medicines with the right drug and the right dosage. However, it is important to stay alert and not getting carried away with the advertisement you see online or on any media sharing platforms that promise you the delivery of the medicines without having a need of uploading a signed prescription from the doctor. This is one of the right ways to go about buying medical products online.
Online Pharmacy should be licensed - The Online Medical Store from where you are planning to buy your medicines from having to have a proper license to sell drugs and medical equipment either online or offline. Irrespective of the mode of purchase, a pharmacy having an accurately recognized license, is a must. The reason why it holds the utmost importance and should affect your buying decision from an online pharmacy is that it will eliminate the risk of fraudulent activities.
Buying medicines from local geography - it is an absolutely smart decision to buy medical products online from the same geography because ordering prescribed and scheduled drugs online from a foreign country could result in variation in the compound of dosage from one place to another. This variation in the compound of dosage in medicines is usually because of the rules and regulations of the medical board of a particular country. Sticking to one trusted Online medical store is the key.
Never buy unprescribed medicines from an online pharmacy - Buying medical products online comes with a set of the potential risk to your own health. Never consider buying unprescribed medicines online. This could be very hazardous and could be life taking at times. Also, all the online medical stores don't ask for signed prescriptions and hence end up selling even OTC drugs without a prescription from the doctor. It becomes crucial to buy medicines from the Online trusted medical drugs supplier.
Look for pharmacies that felicitate you with well-qualified pharmacists - buying medicines and other medical equipment from those online medical stores who have in house pharmacists will absolutely make your journey of buying medical products online a cakewalk by answering all your queries and putting an end to all your doubts.
Look out for a pharmacy that provides you with the bill - no matter how old or well known online medical store you are buying your medicinal requirements & supplements from, it is a buyer's responsibility to always ask for an invoice copy or a bill from that online pharmacy. Holding a copy of the bill will put the pharmacist accountable for any probable problem in medicines. Also, it will help you get the amount of the bill reimbursed against a medical or a health cover. The pharmacists who provide bills even without asking can easily be coined as Online trusted medical drugs suppliers.
Always check upon the expiry date of the drug - don't overlook the obvious in a hurry to place your order from an online pharmacy. Given the climatic conditions, and storage methods, some medicines could not be safe to consume even close to their expiry dates. Many trusted online pharmacies clearly mention the date of manufacture as well as the date of expiry along with the directions to store the drug in given climatic conditions.
Be alert and don't miss out on discounts and offers - the next time you buy medicines from online medical drugs suppliers always look for great deals. Trusted pharmacies will charge the most genuine rates for the Online Medical Supplies and some online pharmacies might even offer you the loyalty bonus to win your trust. This is one of the great marketing strategies to retain customers.
Easy Payments - online pharmacies that facilitate easy hassle-free mode of payments. They can even offer you a wide range of payment options like PayPal, Plastic Cards, COD, etc.
Buying Medical Supplies online from an online medical drug supplier is no different from buying medical supplies from a physical marketplace. Above mentioned are the few most important things that you need to keep in mind before buying medicines from an online marketplace.
So now that you have a broader idea of things that needs to be kept in mind before buying medical products online, you can consider Australian Medicinal Supplies as the best option for all your medical requirements. You can even walk-in the physical store of AMSPharmacy as well as decide to get your medical supplies delivered at your doorstep with our Online Pharmacy.