Winter is a welcome change for people in Australia after the terribly hot summer season. While southern Australia freezes through winter, it is completely different in the northern territory. Many people in the northern part of Australia spend their winters outside, which makes staying healthy a priority for people every winter.
But this year, the need to stay healthy in winter has become even more important. With the onslaught of the Covid-19 pandemic, the risk of getting sick in winter is quite high. Winter brings out the lazy side of every person. In Australia, the temperature drops are as low as 5℃ during winter. This makes people tempted to curl up on the couch in a blanket and spend time watching movies. Reduced activity and the cold atmosphere lowers the immunity system of people. That's why many people plan ahead to stay healthy during the winter. Here are some tips to stay healthy during winter.
Best Tips for Winter Season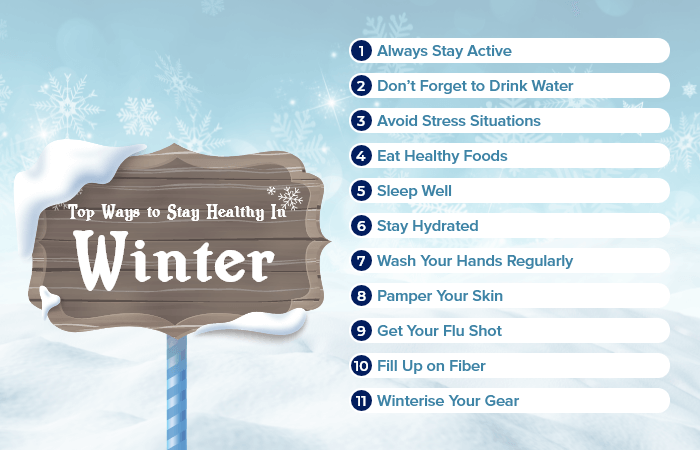 1. Practice Good Hygiene
This is one of the most important winter health tips. With the pandemic still affecting many people, you should continue social distance and good hygiene. Make sure to wash and sanitize your hands when you go outside or come home. Maintain social distance when you're outside and sanitize your hands whenever you touch something.
These winter tips for healthy living should be followed every day if you want to stay safe from Covid-19 and other viruses.
2. Exercise Regularly
The winter season makes many people feel lethargic. People hate leaving their beds in the morning and start lagging on exercise. But it is important to maintain daily exercise even during the winter season. There are many ways to stay healthy and active during winter. You can join a gym, lift weights at home, go for a run, or even dance to burn a few calories while having fun every day. You're more likely to stick to the exercise if you're having fun. You can also practice yoga or breathing exercises, as it will help you stay warm and healthy during winter.
3. Take Care of your Skin
Everyone complains about dry and cracked skin during winter. It can be irritating. Drinking a lot of water and using a good moisturizer will keep your skin soft and healthy. You can use Solal Spf 50+ Moisturising Lotion to keep your skin moisturized during winter. You can easily buy this product from an online medical supplier in Australia.
4. Increase Protein Intake
Protein helps in improving the immune system. According to healthcare expert tips, protein-rich foods can increase your energy throughout the day. It helps to build tissue, bone and boost the metabolism of the body. Some protein-rich foods include meat, dairy products, nuts, and seeds. You can also take supplements to increase your protein intake. Quality Health High Strength Krill Oil 1000mg 60 Capsules are the best source of high-quality protein and Omega 3 fatty acids. You can buy this supplement and many other trusted medical supplies from AMS Pharmacy.
5. Add Healthy Foods to your Diet
A healthy winter diet containing lots of fruits and vegetables can provide many vitamins, antioxidants, minerals, and fibers to your body. It helps in boosting immunity and also keeps the body warm. Soluble fibers found in fruits, nuts, grains, and vegetables are very helpful for digestive problems, especially in winter. To get more healthy diet tips consult a medical professional at AMS Pharmacy.
6. Take your Flu Shot
Each year, the seasonal flu affects millions and causes thousands of hospitalizations and flu-related deaths. This happens because many people neglect taking their flu shots. Some don't have time because of work while others refuse to take the shot because they are afraid of needles. But getting a flu shot before winter arrives can reduce the chances of getting affected by 50%. Also considering the current situation it has become much more important to take flu shots.
7. Bundle Up in Warm Clothes
It's easy to neglect wearing warm clothes when you are going for a run or to the gym. After all, what's the point of wearing gloves, hats, and overcoats when you're ultimately going to sweat, right? Well once you finish exercising and start getting cold, it'll become harder to warm up. This is why you should take proper precautions for the winter season and wear plenty of warm clothing whenever you go outside of the house.
8. Intake Sufficient Vitamin C
Vitamin C is the best immunity booster. It supports the normal functioning of the immune system during and after an intense physical workout. You can eat fruits or vegetables rich in vitamin c or take supplements like Quality Health Vitamins C 500mg 200 Tablets.
9. Supplement with Vitamin D3
People prefer staying indoors during the winter. While staying bundled up in blankets is better than battling the cold winter air, it can reduce the production of vitamin D3 in our body. This vitamin is very crucial for bone health. So you should try to get ample sunlight during the winter. But if you get sick easily and would rather stay indoors, then there are many vitamin D3 supplements available at AMS online pharmacy.
10. Stay Hydrated
It is important to stay hydrated, not just in winter but in all seasons. Water helps in carrying nutrients to body cells and balances body fluids. It also helps in cleaning our system and removes toxins from the body. Staying hydrated also reduces many skin problems and keeps the skin moisturized during winter.
Conclusion
Winter is a season of festivities. People either spend their time outside, skiing or playing in the snow or inside, eating junk food, and spending time with their families. Winter can be extremely fun and is the favorite season of many people. But it is very important to stay healthy and safe to enjoy this season completely. Follow our winter health tips to be completely ready for this winter season.



If you want more tips for staying healthy over winter, you can talk to a health professional at AMS pharmacy. AMS pharmacy is an Australian medical supplier with many experienced health professionals.
AMS is Australia #1 online pharmacy that offers online consultation with qualified medical professionals to get prescriptions. We are also the only online pharmacy in Australia that gives you the option to get your medicines all over the world through home delivery.