In such tough times of an unfortunate outbreak of deadly coronavirus, it becomes much more important to look after our health. To stay safe and healthy, you should focus on adhering to the government norms to stay safe and take some personal precautions as well. Improving and maintaining immunity is the new normal.
Facilitating your bodies with all the vital supplements should be treated as a priority. Furthermore, if you or your closed ones develop symptoms of coronavirus like high fever, cold, and cough, runny nose, burning eyes, nausea, difficulty in breathing, etc, consulting a doctor should be treated as a priority.
With the increase in the reach of the coronavirus outbreak, keeping a regular check on your body temperature becomes important. If you visit any public place like malls, gyms, theaters, commercial spaces, etc, you won't be allowed in before getting your temperature checked.
However, it is important to understand that normal body temperature is a range, the normal range varies from individual to individual and can also fluctuate throughout the day. It also varies from different body sites. Let us understand the normal temperature range according to the body site.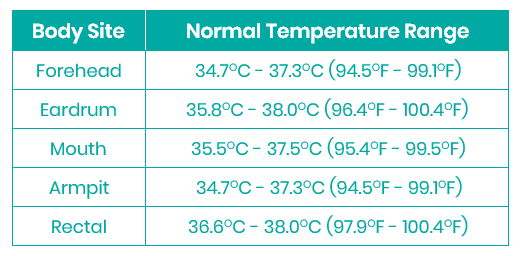 Moreover, normal body temperature also varies from gender and age.
In case, if you are wondering which is the best infrared thermometer available in the market that can give you the accurate readings without the need of physical touch, a lifesmart infrared thermometer is your type.
You can buy lifesmart infrared thermometers from an online trusted medical drug supplier, especially the Australian medical store.
How Lifesmart Infrared Thermometer works -
Lifesmart infrared thermometers measure the temperature of the body based on the emitting infrared energy, either from the forehead or eardrums. All you need to do is place the lifesmart infrared thermometer probe in your ear canal or forehead. It will give you the readings within fractions of seconds. Moreover, it is also used to measure the temperatures of milk and water.
The best infrared thermometer is made up of a shell, an LCD, a beeper, an infrared monitoring sensor, a measure button, and a microprocessor.
The temperature sensor of the LifeSmart Infrared Thermometer Dual Function collects the infrared energy emitted by the body site (primarily eardrum or forehead). After this, it is focused by the lens, and the infrared energy is converted into temperature readings, processed by the thermophiles and measurement circuits.
LifeSmart Infrared Thermometer Dual Function is intended to be used to measure human body temperature, taking into consideration the forehead site. However, the eardrums are also used for individuals above 3 months of age.
Features of Lifesmart Infrared Thermometer -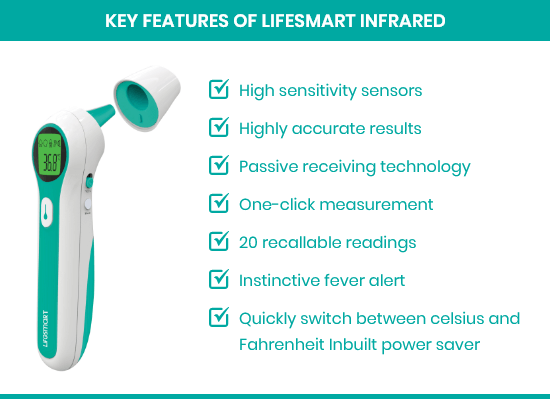 Passive Infrared receiving technology.

One-click measurement.

Quick results.

High sensitivity sensors that give highly accurate results.

20 recallable readings.

Instinctive fever alert.

Allows you to quickly switch between celsius and Fahrenheit.

Automatic power-offs and inbuilt power saver.
How to Clean and Disinfect lifesmart Infrared Thermometers?
Take out the batteries before cleaning.

Gently clean the measurement probe with a soft cloth and the lens with a cotton swab.

Wipe the body of the thermometer with a slightly damp soft cloth.

Make sure no liquid enters the body of the thermometer. If it does, it might cause some damages.
You can also use some disinfectants to disinfect the best infrared thermometer like -
Isopropyl alcohol solution (concentration: 70%)

Medicinal alcohol (concentration: 75%)

Sodium hypochlorite solution (concentration: 3%)
Lifesmart Infrared Thermometer Uses for measuring body and surface temperatures. It can read the temperatures till 100℃ or 212℉ for an object or a surface. For, forehead temperature, it showcases readings up to 42.2℃ or 108.0℉. It also facilitates its users with the ease of measuring eardrums temperature with a maximum range of 42.0℃ or 107.6℉.
The readings from lifesmart infrared thermometers are decoded in particular ways with the help of sound and lighting techniques that come inbuilt. Let us understand the indicating measures of results reading with the help of a table.
Range

Sounds

Backlight

For Measuring The Temperature of an Object

0℃-100℃/32.0℉-212℉

a long beep

green

For Measuring Forehead Temperatures of an Adult and a Child

35.0℃-37.5℃/95.0℉-99.5℉

a long beep

green

37.6℃-42.2℃/99.6℉-108.0℉

3 short double beeps

red

For Measuring Ear Temperatures of an Adult and a Child

35.0℃-37.5℃/95.0℉-99.5℉

a long beep

green

37.6℃-42.0℃/99.6℉-107.6℉

3 short double beeps

red
Lifesmart Infrared Thermometer Uses a no-touch technology that helps in taking the reading of the temperature without having any physical contact. In such dangerous times of COVID-19 outbreak where social distancing is the new norm, it is the best way to avoid physical contacts and it also serves the purpose. It is one of the best infrared thermometers that can read the body and surface temperature within one second.
How to Use a lifesmart Infrared Thermometer?
Touch and press the smiley face built on the body of the thermometer facing either the eardrums or forehead. Release the pressure from the smiley button and take into account the readings displayed on the LCD screen.
Lifesmart Infrared Thermometer Price
The price of the Lifesmart Infrared Thermometer Online is $69.95. And you can Buy LifeSmart Infrared Thermometer Online from AMS Pharmacy based out of Australia. AMS is one of the Online trusted medical drug suppliers.
However, in the packaging delivered by Australian Medical Store will include four components -
| | | |
| --- | --- | --- |
| Serial No. | Particulars | Quantity |
| 1. | Lifesmart Infrared Thermometer | 1 |
| 2. | Carrying Pouch | 1 |
| 3. | Battery(AAA) | 2 |
| 4. | Instruction Manual | 1 |
In case of any damage or operational issues, you are advised to contact Lifesmart. You will be needing the following things to make your claim- device model, serial number, date of purchase, contact number, email address, and physical address.
Lifesmart Infrared Thermometer Review and Rating
I would give a 4.5-star rating to this lifesmart's best infrared thermometer for a quality performance along with its ergonomic design. It facilitates a no physical touch infrared touch sensor to give accurate body temperature readings. Also, LifeSmart Infrared Thermometer Dual Function allows you to take the body temperature readings from both forehead and eardrums.
An Australian Medical Store is a pharmacy that is available to cater to your medicinal requirements on both online and offline platforms. It is one of the most trusted online pharmacies across Australia that delivers medicines and medicinal supplies at your doorsteps at an economic price. We believe in delivering quality products and building long term relationships with our customers. For more details, please visit us at AMS Online Pharmacy Store.