Most of the time having a lice problem is tagged with poor hygiene and lack of attention to hair care. But contrary to this, there is no guarantee that you won't get a lice problem after all the caution. These minute wingless insects can affect anybody and at any point in time. Though young children are the most affected age group by this predicament, having a proper head lice treatment on the onsight of initial symptoms can save the person and those near to them from a lot of hassle and most importantly a medical visit.
Further, according to a study by Norweigan researcher Bjørn Arne Rukke, some children were found to be more prone to lice than others. He found this through recording incidences of lice in school children in Oslo and concluded that the type of hair and their length were a big factor for lice apart from hygiene. Children with wavy hair were found out to be most prone to lice, the ones with curly hair were in second place and those with straight hair were the least affected. Additionally, people with longer hair also had high chances of having a lice problem.
However, due to the highly transmissible nature of this condition, anyone can need head lice treatment. This can be possible through some highly effective top hair care products when taken care of in the initial stage itself. That is why it is important to know how to identify this condition, and here are some of the common symptoms and reasons that a person with lice may notice.
Symptoms
Regular head itching

is one of the first and most common symptoms of lice problem, this happens mainly due to the bites and reaction of lice saliva with the skin. There may also be a tickling and tingling sensation on the scalp due to the movement of lice.

Bumps and sores

may also become common if proper hair care products are not used. In rare cases, this may also lead to head infections and skin irritation.

Lice and lice eggs

can become a common sight if the right measures are procrastinated for a long time. Catching them with hands can be difficult, given their speed and density of hair.
Reasons
High transmission

is one of the principal causes of this problem in both adults and children. Both adult lice and nymphs pass from one head to another very quickly. This can be through head contacts, bedsheets, hats or any other similar thing.

The life cycle

and high breeding rate of lice also make things worse. A female louse can lay anywhere between 6 to 10 days and an adult louse can have a life span of nearly 3 to 4 weeks on the head.

Lack of care

of your hair and the scalp with proper

hair care products

or treatment for lice at the initial appearance of symptoms can also be the reason behind this condition.
Nevertheless, taking care of the lice problem is easier than it may look with the help of some best head lice products already available along with other top hair care products. Here we list out some top products and treatments for your reference.
10 Best Head Lice Products
1. Nitwits Anti Lice Spray- 125mL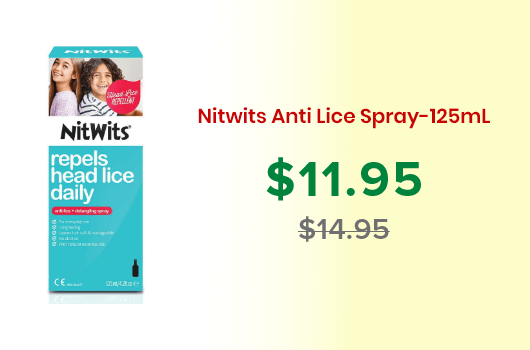 As they say that prevention is better than cure, and the Anti Lice Spray by Nitwits fulfils this completely. The spray is specially made keeping in mind the sensitive skin of kids. It contains tea tree oil, eucalyptus oil, lavender oil and orange peel oil as its main components, thus making it all-natural. This spray acts as a strong repellant to lice and can also be used as natural hair oil. Further, it is also free from alcohol and has a refreshing scent.
2. Pyrenel Foam - 100mL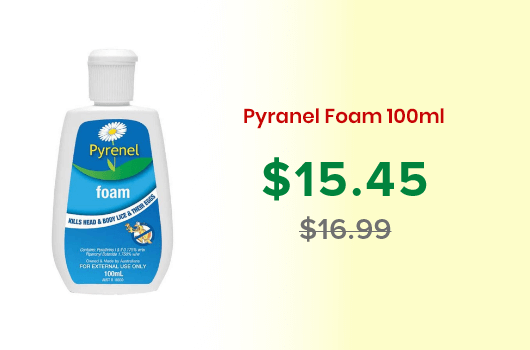 A lot of time we need quick results for our lice problem and that is why treatment for lice is required that can get rid of those stubborn nits quickly. The Pyrenees foam is no mess formula that contains active ingredients like Maldison. These ingredients directly target the protective layer of lice. Apart from lice, this is one of the best products to get rid of lice eggs in hair.
3. Nitwits Anti Lice & Detangling Spray- 125mL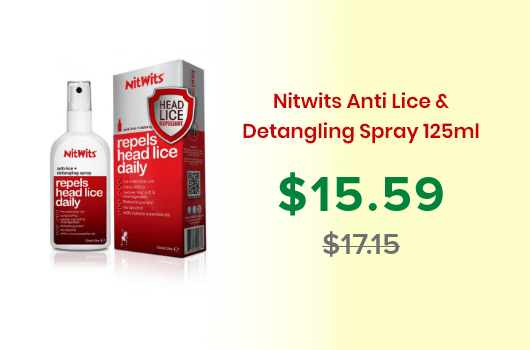 When it comes to the best head lice treatment for long thick hair, there are very few products that offer results like the Nitwits Anti Lice & Detangling Spray. Often people with long hair find it cumbersome to use foam and shampoo for lice. However, the Nitwits spray is easy to apply and carry, for the best results, it should be used at least twice a week. It is also prudent to do a patch test on a small area to check for irritation.
4. KP24 Medicated Lotion- 100ML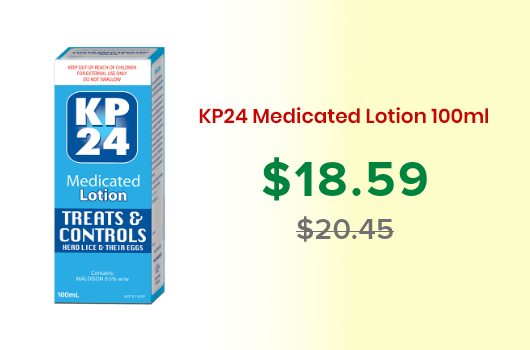 In case, if there is a serious infestation of lice, the only way to treat it is to use specialised products. The KP24 medicated lotion is a great solution for long persisting lice problems and to get rid of lice eggs. The scalp must be covered by the lotion with gentle massage and allowed to dry naturally without heat. No more than 25 mL should be used in a day to avoid any irritation.
5. Licener Head Lice Treatment - 100g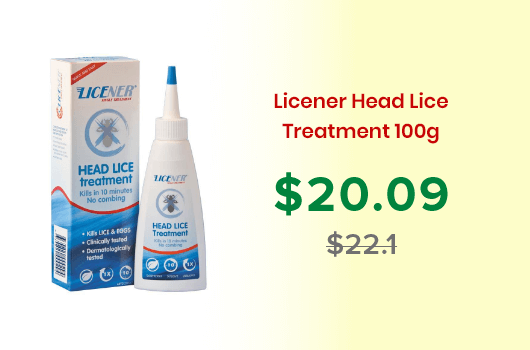 Among the best lice shampoo, the Licener Head Lice Treatment comes at the top spot. With only a few usages it can clean your scalp completely of all the eggs and lice while being gentle at the skin. It contains neem extracts having strong anti-fungal properties along with Polyglyceryl -3 Caprate. It can be used by massaging on a dry scalp and leaving it for 10 minutes after which it can be rinsed off with cold water.
6. KP24 Egg Lice Remover - 100mL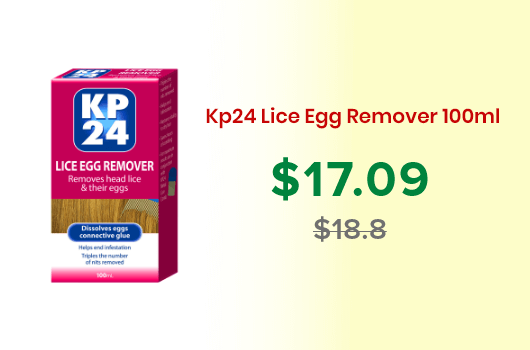 Generally, it's harder for people to get rid of the eggs more than the lice. This is because the lice lay eggs near the shafts and a special enzyme gets them stuck there. The KP24 Egg Lice Remover provides a long term solution by loosening the eggs which makes it one of the best lice treatments for kids. This is to be massaged on a wet scalp for at least 10 minutes.
7. KP24 Medicated Foam - 100mL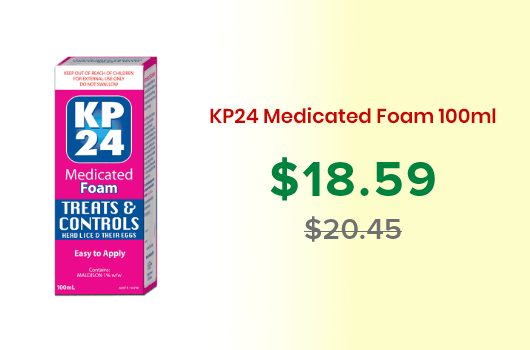 Another best shampoo to prevent lice is the Medicated Foam from KP24. It provides quick results along with avoiding any kind of irritation. It is specially made for children who are above the age of 6 months. The best way to use it is to apply it on wet hair with 10 to 15 ml of foam, this process should be done once a week for 6 weeks and a 2-week gap should be given for further usage after that.
8. Banlice Mousse - 200g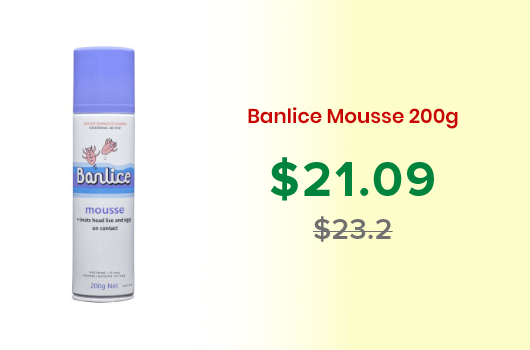 From Johnson & Johnson Australia, Banlice Mousse is a popular lice treatment for kids. Its simple to use procedure makes it convenient whereas the use of natural Pyrethrins as a principal ingredient make it reliable. It is to be applied on dry hair and massaged till they get wet. Let it stay for 10 minutes further and rinse thereafter with cold water. The best frequency of usage is 2 to 3 times a week.
9. KP24 Rapid - 250 mL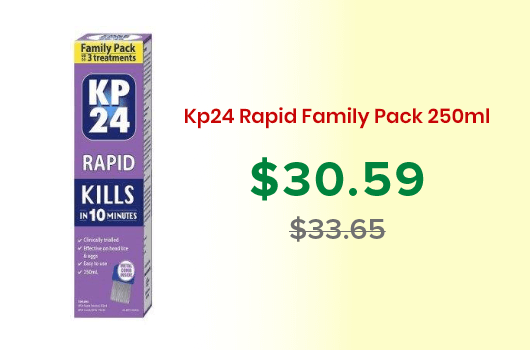 This is one of the most potent treatments available for lice and eggs by KP24. It boasts 100% efficiency when it comes to removing adult lice and around 97.2% efficiency for their eggs. Just a 10-minute treatment with the KP24 rapid can help you to have a completely clean scalp. To get the best results, apply it to dry hair and massage the scalp thoroughly. Then with the help of a metal lice comb, remove the eggs and lice.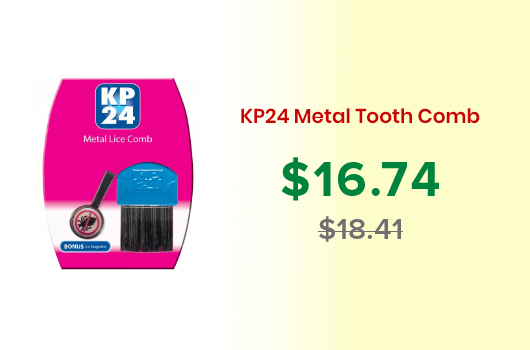 Combing is a traditionally popular method of getting rid of lice and eggs from hair, however, KP24 provides a unique design comb made specifically for lice and egg removal. It is a fine-tooth comb with a metal body making it possible to sterilize it multiple times. It is to be used on towel dry hair, while it can also be used with other hair treatment products for better results.
Apart from the products and treatments, certain precautions and measures can also help in the faster cure of the condition. Here are some of them
- After 8-12 hours of treatment, do not forget to remove dead lice with a fine-toothed comb.
- For at least two days, avoid using regular shampoo
- Daily check for nits and lice twice for ensuring you are free of them
- Clean your combs in boiling water daily for at least 10 mins
Caring for hair is as important as taking care of any other body part. Nobody loves to scratch the head for long and long. Lice are the most infamous reasons behind people scratching their heads and losing hairs simultaneously. The above products are tested, trusted and certified. Check them carefully and read about the precautions before buying them. AMS Pharmacy apart from being an online drugs supplier in Australia also gives you the option to get a prescription from their doctor which makes the process easier for you.

AMS Pharmacy provides you with the most trusted online medical supplies at reasonable prices. We facilitate people to buy medicine online in Australia with a zero-hassle delivery. Being an Australia #1 online pharmacy we have put in place the highest standards of quality check, getting you the most quality medical products and equipment along with an easy online consultation and prescription from doctors. Visit Australia's Online Medical Store to get the best deals on medicines and health equipment now.